Post-Halloween Updates
Posted by Michael on 3 November 2003, 23:55 GMT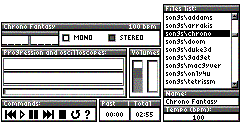 While there hasn't been much news recently, there are several things worth mentioning today. First, Anneheim Geoffrey has been working on a MIDI-playing utility called PolySnd v2.0, for the 89/92+/Voyage 200. It has a player and a converter.
The EE*Pro (89 & 92+/Voyage 200) and ME*Pro (89 & 92+/Voyage 200) flash applications are now free for download in the TI Online Store. Previously these apps were only available for a fee. They are primarily useful for Electrical Engineering and Mechanical Engineering students.
Finally, Seth Berger was kind enough to send in pictures of his Halloween costume (from 1996). I mention this because he wore the most awesome costume one could possibly wear: He dressed up as everyone's favorite calculator, the TI-85!.
Update (Joey): The player has been updated, so go grab the new version. Also, major props to Seth on the costume... I wish I were that brave.
The comments below are written by ticalc.org visitors. Their views are not necessarily those of ticalc.org, and ticalc.org takes no responsibility for their content.
Re: Post-Halloween Updates
Greg M

Just an idea,
Nobody needs to buy the 3.5mm > 2.5mm converter.
there are many ways to do this without paying anything.
a)
plug your link cord in to the calc, and touch your earphone contacts 1 to near the beginning, and 1 on the end.(only useful if your earphone doesn't have a regular connector - mine came from a 130-in-one set from radio shack.)
b)
cut, and splice a spare link cable to your headphones
(this idea came from somebody's text file in the text directory of the archives.
c)
any combination of the two, or anything else you can think of.

7 November 2003, 14:55 GMT





Re: Re: Post-Halloween Updates
sancho
(Web Page)

Yesterday I made the 3.5mm > 2.5mm converter and I paid only 500 pesos for the male and female catchs that its like 15 cents of dollar, then it took me five minutes to make the soldering and i had it working with headphones, pc speakers and even the stereo (with the proper adapter), if you wanna know how to make the converter just read the documentation that comes whith the polysound library

-Anneheim Geoffrey: Hope you read this....you have read other posts..., I know that the pplayer is just an example of the implementation of your library, but los of people I know got excited about the player, would you improve it?, if you do i have to tell you that i found that it takes the files kmap.map and monlevel.mlv from kirby and monster games as if they were sound files, then when it is gonna read'em it says that obviously it is not a sound file and then exits the program

7 November 2003, 20:33 GMT





PolySnd Player.
Anneheim Geoffrey
(Web Page)

Indeed the realization of an adapter is really simple and not cost.

PolySnd Player has a bug that one my announced 2 days ago, this bug is very a minor but blocks the execution of PolySnd Player, I go in little time to put at days this programs and to put it on ticalc.

Much people to me one asked whether it were possible to add a support WAV for PolySnd Player, yes it is possible but it is not my objective, the sources can be modified for this type of support but with certain conditions of course.

Moreover PolySnd v2.0 watch the possibility of the sound in future games, I am on realization of a set of breakout arkanoid which uses PolySnd and the play is very fast.

I think of carrying out a version 3.0 of PolySnd but I prefer before seeing it success of version 2.0 to see whether that is worth the blows.

There exists a converter WAV that ticalc did not announce but which this finds in files, this converter this names PolySnd Converti. (windows program).

7 November 2003, 22:08 GMT





Re: PolySnd Player.
Anneheim Geoffrey
(Web Page)

I have made a new version of PolySnd Player. Is available on my web site.

7 November 2003, 23:08 GMT
Re: Post-Halloween Updates
Frank A. Nothaft
(Web Page)

Ummm, who listens to MIDI files or WAV files? I mean, MIDI can't have vocals, and WAV is uncompressed, and only music producers really need uncompressed digital audio, and even when they do, they generally use AIFF or another pro format.

8 November 2003, 18:57 GMT





Re: Re: Post-Halloween Updates
Joey Gannon
(Web Page)

Most people don't, but MIDIs are easy to track down, and it's not hard to convert MP3->WAV. Obviously you aren't gonna get 128kbps out of a calc, so you gotta find a better way. MIDIs are it.

10 November 2003, 02:42 GMT
Re: Post-Halloween Updates
Ivan Papusha
(Web Page)

It is great that TI has made some more free apps. I can finally use the final version of EE, without the trial poop.

I wish they would make all of their apps free, like the CellSheet App for the TI-89. Of course, most things that CellSheet does can be done on the TI-89 without the App, but it's still better for the newbies.

In fact, I don't understand why even make software (especially for the calculator - unless you are looking for games or are a programmer, you probably never even heard of education.ti.com aside from what is written on the back of your calc) not free. It's not Microsoft Word, or Adobe Photoshop, and they barely do anything. for those 7 or 15 dollars I could go to jameco.com and buy 60 transistors and maybe even a few power transformers with shipping and handling, and still have money left over.

8 November 2003, 19:05 GMT





Re: Re: Post-Halloween Updates
burntfuse

$7-$15...also a few PICs...maybe a used Bon Jovi CD :). BTW, speaking of low prices, have you seen Hosfelt Electronics? (switches<$2!!!!)

8 November 2003, 21:58 GMT





Re: Re: Re: Post-Halloween Updates
Ivan Papusha
(Web Page)

Well, I see that you truly like to listen to Bon Jovi. Personally, I like cookies. For that money I could buy at least three packages of cookie mix. Yes, Jameco is a little more expensive, but it is definitely cheaper than Radio Shack, and there is more availability

Jameco 2N2222A $0.39- + shipping
Radio Shack Catalog 2N2222A $1.24 + shipping

For the price of a Radio Shack transistor, I could buy a package of cookie mix!

9 November 2003, 03:40 GMT





Re: Re: Re: Re: Post-Halloween Updates
burntfuse

Yes, I do, along with a lot of other hard rock bands. Some people would call my 24/7 listening habits almost obsessive...
LOL!!! That's about a 3x price difference! Probably from all that pointless packaging on the Radio Shack one that takes 5 minutes to get off.

9 November 2003, 21:35 GMT





Re: Re: Re: Re: Re: Post-Halloween Updates
W Hibdon

Packaging is rather expensive. That is where all the money goes, and most of the time, it is pointless. The amout of packaging that goes into products is downright wastfull. Most of the time, it is just to make the product look more pretty in the package. It is just horrible, I say you, just horrible.

-W-

9 November 2003, 23:59 GMT
Re: Post-Halloween Updates
chemoautotroph
(Web Page)

The program gave me a "black bar of death" Address Error as soon as I executed the program. I've got a TI89 with AMS 2.09

14 November 2003, 02:48 GMT





Re: Re: Post-Halloween Updates
ti_is_good_++

Thanks. I won't use it.

14 December 2003, 22:40 GMT
1 2 3 4 5

You can change the number of comments per page in Account Preferences.