New 3D Project
Posted by Joey on 9 May 2003, 02:32 GMT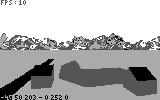 Thibaut Chevalier is working on a new 3D project for the 89, 92+, and V200. It can reach 20 FPS, and will render scenes from a tilemap. No release date is set, but he plans to release a clone of the old 3D car racing PC game "Stunts" once the engine is perfected. Find out more at his website.
The comments below are written by ticalc.org visitors. Their views are not necessarily those of ticalc.org, and ticalc.org takes no responsibility for their content.
Re: New 3D Project
Morgan Davies
(Web Page)

Um, just so you guys know, Michael V is by far not the only person deleting posts on this site.

Please, spare me the reply that this is off topic.

16 May 2003, 01:36 GMT
Re: New 3D Project
Ravneet Singh
(Web Page)

This is a very intresting project...i started a ti forum and i hope we can discuss stuff like this there!!! i need Moderators!!! ITs on a pretty fast server and its all about calcs

17 May 2003, 18:14 GMT
Velly Intellesting
newrad
(Web Page)

I find it intriguing that all the posts that criticize him are deleted, yet all the posts that make him sound better aren't

18 May 2003, 07:29 GMT





Re: Re: Velly Intellesting
BullFrog
(Web Page)

Now let's see how long it takes this thread to get deleted...

19 May 2003, 04:58 GMT





Re: Re: Re: Velly Intellesting
newrad
(Web Page)

he prolly knows that if he does it will prove my point

19 May 2003, 05:39 GMT
1 2 3 4 5

You can change the number of comments per page in Account Preferences.



Copyright © 1996-2011, the ticalc.org project. All rights reserved. | Contact Us | Disclaimer