Metroid II: Evolution
Posted by Michael on 20 August 2006, 20:43 GMT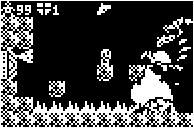 Kevin Ouellet and Fred Sparks have teamed up to produce a sequel to Fred's original Metroid clone for the 83+. Their efforts have yielded Metroid II: Evolution v1.02. Metroid II features many of the great items from the original Metroid game. As with the rest of Kevin's BASIC games, Metroid II is both detailed as well as very taxing on your free memory. Be sure to read the aptly titled readme file in the zip.
Reply to this article
The comments below are written by ticalc.org visitors. Their views are not necessarily those of ticalc.org, and ticalc.org takes no responsibility for their content.
Copyright © 1996-2011, the ticalc.org project. All rights reserved. | Contact Us | Disclaimer