GrayScale Slippy for 83+
Posted by Michael on 20 June 2006, 23:55 GMT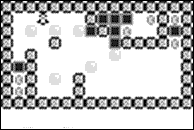 Vincent Jünemann has updated his game GrayScale Slippy, which is a remake of the original "Slippy" game created by other authors. Vincent's GrayScale Slippy features 25 levels and as the title indicates, grayscale graphics. It runs on 83+ series calculators under either ION or MirageOS.
Reply to this article
The comments below are written by ticalc.org visitors. Their views are not necessarily those of ticalc.org, and ticalc.org takes no responsibility for their content.
Re: GrayScale Slippy for 83+
calcguru13

Yeah!!! I remember this game!! I downloaded this to my calc, and it has awesome graphics and controls, especially for a calc game. I feel this is gonna be the next Mario type game... good work Vincent!

Reply to this comment
21 June 2006, 00:32 GMT
Re: GrayScale Slippy for 83+
Brian Clymer

This really is one of the greatest games. Awsome graphics and I remember the game from way back when. Great job Dude. WORTH A DOWNLOAD!

Reply to this comment
21 June 2006, 01:40 GMT
Re: GrayScale Slippy for 83+
James Montelongo
(Web Page)

I can't get passed level 8, clues anyone?

Awesome work on the feature Kv83.

Reply to this comment
21 June 2006, 02:50 GMT





Re: Re: Re: GrayScale Slippy for 83+
Vincent Jünemann
(Web Page)

I'm sorry guys, but due an error lvl 8 is not finishable. I uploaded the new version to ticalc.org which fixes those errors. Only have to wait for the ticalc staff to "aprrove" it.

Thanks everyone for those nice comments.

P.s.: Happy b-day ticalc.org :)!

Reply to this comment
22 June 2006, 19:21 GMT
Re: GrayScale Slippy for 83+
Person Dude

This game is awsome! I downloaded it yesterday and it is a blast! Not to easy, but not incredibly hard... just hard enough to make you thing. I like games like that. Plus, the greyscale is very nice. Good work. Vincent Jünemann.

Reply to this comment
21 June 2006, 13:23 GMT
Re: GrayScale Slippy for 83+
micro500
(Web Page)

When I downloaded this game, I was instantly amazed at the gray scale! It is works flawlessly on my TI-84+SE. There *was* how ever one error in the old bug. When ever I would press clear in a level (to reset the blocks), a level or 2 would be added on. Eventually I had "64" levels. Seems like the author found this bug (hence the update), and now it works perfectly! I hope to see more from this author! Keep it up!

Reply to this comment
21 June 2006, 23:00 GMT





Re: Re: GrayScale Slippy for 83+
Travis Supalla
(Web Page)

yeah I told him about the bug once I encountered it earlier. Kv83, awesome game...I am glad to see it finally finished! Great work on the game mate!

Reply to this comment
23 June 2006, 22:54 GMT
Re: GrayScale Slippy for 83+
Shady_0883

This game really looks GREAT... but i haven't probe it yet....:( but i will tomorrow we'll see how good is it...... but anyway AWESOME job with the grayscale screenshot...

Reply to this comment
24 June 2006, 20:41 GMT
Re: GrayScale Slippy for 83+
TD-Linux

Grr.... I can't get past Level 6, no matter how hard I try. I need a solutions cheat-sheet :)

Reply to this comment
7 July 2006, 00:00 GMT