TxTRider v1.0b - Versatile Text Editor
Posted by Nick on 31 July 1999, 19:14 GMT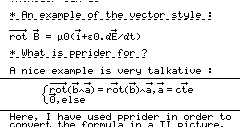 Marc Teyssier has created a versatile program, TxTRider v1.0b. It is similar to the text editor available on the 89 and 92+. It is also for the 89 and 92+, but it is a text viewer rather than an editor. It does, however, have many added features such as supporting pretty print, pictures, and different formats such as bold and underline.
The comments below are written by ticalc.org visitors. Their views are not necessarily those of ticalc.org, and ticalc.org takes no responsibility for their content.
Re: TxTRider v1.0b - Versatile Text Editor
Dave Gaebler

Which calc is this for? 85? 86? 83?

31 July 1999, 19:49 GMT



Re: Re: TxTRider v1.0b - Versatile Text Editor
Kirk Meyer
(Web Page)

The news article has been changed, so that you can now see that it is for 89/92+.

31 July 1999, 21:18 GMT





Re: Re: TxTRider v1.0b - Versatile Text Editor
NickD
(Web Page)

There's a version for both the 89 and the 92+. The 92 shot is pictured (as evidenced by the larger screen). Sorry about that :)

--b00clax

31 July 1999, 21:18 GMT
Re: TxTRider v1.0b - Versatile Text Editor
Eric
(Web Page)

I just downloaded this program, but everytime I send it to my 92+ with the Graphlink I get checksum errors and I am sending the 92+ format files to my calc. Has anyone gotten this program to work on a 92+?

31 July 1999, 20:20 GMT



Re: Re: TxTRider v1.0b - Versatile Text Editor
Ju

Yes,I think riderhelp.9xt is corrupt...
One thinh u can do is to send this file to the emulator, then, send it to your calc from the emu : it should work !(this what i did)

1 August 1999, 01:02 GMT





Re: Re: TxTRider v1.0b - Versatile Text Editor
Filja Maddok

I do not have a 92+, but I do have an 89. One reason for this error is that your batteries are low. But if sending from an emu worked, don't worry about it.

1 August 1999, 17:30 GMT



Re: Re: Re: TxTRider v1.0b - Versatile Text Editor
Person_2000

That same thing happened to me. I got soooooo frustrated that I uninstalled graph link. And reinstalled it. Don't do what I did, just get new batteries. This is on the topic, if I hear people saying I lose topic, I don't. You should get Virtual Ti and since the 89 has a built in ROM Dump, then use that and you will NEVER have to worry about it again and it sends files to Calc faster since it is on the Computer (virtual TI)

2 August 1999, 19:41 GMT





Re: Re: Re: TxTRider v1.0b - Versatile Text Editor
Jason

Just open it and then save it in your TI Graph-Link. No need to worry about emulators...

12 August 1999, 06:40 GMT
Does ticalc staff hate Bryan?
akromix

I am just asking one question, do you guys hate Bryan or something? I see that every comment he adds, even if it is constructive, is deleted. Why?

1 August 1999, 01:03 GMT





Re: Does ticalc staff hate Bryan?
Kirk Meyer
(Web Page)

I am just answering one question. That means I don't want to see a big expanded thread about this.

The constructive comments are removed because they no longer make sense (if Bryan suggests to add a border to the screenshot, it does not make sense to leave his comment there after we add the border - people would think he's an idiot). I believe that those are the kind of comments that were removed from these articles (to my knowledge).

1 August 1999, 22:10 GMT





Re: Re: Does ticalc staff hate Bryan?
SPUI

So why wasn't the first post removed? That error (failing to say what calc it was for) was fixed. BTW please remove this IF AND ONLY IF the first post is deleted.

4 August 1999, 04:18 GMT





Re: Re: Re: Does ticalc staff hate Bryan?
Kirk Meyer
(Web Page)

That post asked what calculator it was for, and so we answered it after we fixed it. The post did not say, "This news system sux, it doesn't say what calc it's for." Those kind of posts are only marginally constructive and have no place once the problem is fixed.

4 August 1999, 16:21 GMT





Re: Re: Re: Re: Does ticalc staff hate Bryan?
"ryan crick"

Kirk, who aro you refering to when you write "we"? I thought you retired from news editor and ticalc in general. "You don't work here anymore"! (Hopefully you will someday, though...)

5 August 1999, 00:04 GMT
Checksum Errors
Chris

I have tried EVERYTHING to send the riderhlp.89t to my 89. I've replaced batteries, everything (I can't get the emulator to link-up working). The Graph-Link software still gives me a checksum error. Whenever I try and open up the riderhlp.89t on the emulator, the calc locks up and I have to force quit (ESC-On). What the heck is up?

Chris

3 August 1999, 02:15 GMT





Re: Checksum Errors
Chris

Okay, I still couldn't get it to send to my calc so I ended up opening riderhlp.89t in Notepad. I took out all the 's and then I ran the Txt-to-89 thing. I then sent it to my calc and it worked. Took a while, but hey, I was bored :)


3 August 1999, 02:56 GMT





Re: Re: Checksum Errors
Juan Corral

All you do is open it in the TI-Graphlink Software and save it again! No need to do all that extra work!

3 August 1999, 21:16 GMT
Re: TxTRider v1.0b - Versatile Text Editor
NidaL

heyyyyyy !!
i tried txtrider whith emulator : perfectly working.
i tried whith my 89 : perfectly too !!!
and i send it whith my home made parallel cable & whith sami KHAWAN Link software.

that's all...but i can't launch TXTRIDER from doors, it tells "memory error"...Must launch it from the main screen of the 89.

but it's really the BEST TEXT VIWER I've ever seen

3 August 1999, 23:23 GMT





Re: Re: TxTRider v1.0b - Versatile Text Editor
lexlugger

Yeah, it really is the best. Too bad it crashed because of the new rom.

4 August 1999, 19:59 GMT
Re: TxTRider v1.0b - Versatile Text Editor
NidaL

please, i need help

WHERE IS THE PROG "PPrider" ????

the auhor says it's inclueded whith txtrider...BUT WHEEEEEERE.???

help , please

7 August 1999, 13:43 GMT
Messed Up
Will

I have successfully sent the text editor program to my TI-89 calculator. However, whenever I attempt to open any text files with the editor, it just displays a bunch of junk that is not legible! Can someone please help me?



10 August 1999, 03:35 GMT





Re: Messed Up
NidaL

I think that you have a bad version of doorsos..or maybe you're using a bad shell ?

you should re-install EVRYTHING in your ti89 : shell, libraries, ...etc...& txtrider.

BUT, NOW ANSWER ME : wherhe is PPRIDER ???

WHEEEEEEEERE??

10 August 1999, 22:48 GMT