INTRODUCTION
The TI-80 was released with Algebra I and middle school students in mind. Like the TI-81, it has no link port and is not intended for serious programming. The TI-80's newer cousin, the TI-73, sports flash upgradability and more memory, and has completely replaced the TI-80 in everyday use.
PHOTO
Click for a larger version.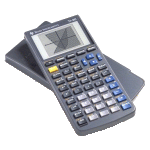 MODEL SPECIFICATIONS
OFFICIAL INFORMATION
» Guide Books from Texas Instruments

ROM VERSIONS
From time to time, TI will update the internal code of their calculators to work around bugs, optimize functions, and even add features. This results in several versions of each calculator in the marketplace. You can check the ROM version of your TI-80 using the following key sequence and reading the number on your screen:
[MODE] [ALPHA] [S]
WARNING: After entering the above key sequence, DO NOT PRESS ENTER! If you do, your calculator's memory will be erased. Press any other key to exit back harmlessly.
Known ROM versions:
UNOFFICIAL UPGRADES
» Power Extension Page
The Power Extension instructions will show you how to use AA (instead of AAA) batteries without making any modifications to your calculator.
BASIC PROGRAMMING