TI-Boy CE Alpha released!
Posted by Xavier on 3 June 2019, 20:06 GMT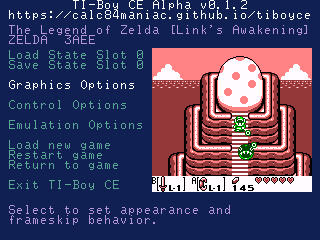 Brendan "calc84maniac" Fletcher has been featured here on ticalc.org many times in the past, and today he's back with a brand new Game Boy emulator (that will surely distract you from math class?), this time written in assembly for the TI-eZ80 series!
TI-Boy CE brings familiar Game Boy games to your TI-84 Plus CE or TI-83 Premium CE calculator. As an emulator, this program is designed to perfectly imitate the original hardware: in this case the classic Game Boy, first released in 1989 (Game Boy Color games are not supported, and Game Boy Advance will never be). When testing this program, I found that it ran games very quickly and accurately, and it can even go faster than the original hardware when utilizing the turbo mode feature. Using the included ROM converter, you will be able to play any game with a .gb file extension, including games such as Pokémon Red and Blue, Donkey Kong, Super Mario Land, The Legend of Zelda: Link's Awakening, and, of course, Tetris. Along with full emulation of Game Boy hardware (besides audio and linking), it has a ton of great features such as:
Save states
Skin and palette options
Turbo mode and frameskip
Customizable controls
The download also includes a ROM and save game converter, which can also be used via the emulator's website.
Please note that while this program is in a fairly completed state, it is still an alpha release. It is therefore highly encouraged to keep any important files on your calculator in archive memory (which you should really do anyway) to protect them from potential crashes. That being said, this project is open source and is hosted on GitHub, where you can post bug reports, make suggestions, look at the source code, and see what some of the future plans for this emulator are. Don't let this scare you from trying it out though, as it really is an excellent program which will lead to hours of fun!
Article written by Jeff "Jeffitus" Anema, with input from Lionel Debroux.