Banchor and SQRXZ for the CE
Posted by Xavier on 27 October 2017, 19:09 GMT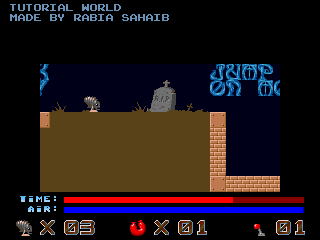 Today, we'd like to feature a couple '2017 releases for the TI-eZ80 series (TI-84 Plus CE and TI-83 Premium CE), both made by James "JamesV" Vernon, who also authored the great Alien Breed series for monochrome and color TI-(e)Z80 calculators, previously featured here.
First of all: SQRXZ CE is a color remake of Jimmy Mårdell's popular SQRXZ platformer, whose versions for the TI-Z80 and TI-68k series have been downloaded 100+K times from ticalc.org. As usual, you need to guide a character through a set of levels, while avoiding enemies. Unlike many platformers, SQRXZ has a set of sprites dedicated to writing text in a fancy font. James even included a WYSIWYG level editor (for Windows), so that you can design your own levels :)
More recently, James also ported his own Banchor: Legend of the Hellspawn RPG from the TI-86 to the TI-eZ80 (CE) series. Unlike SQRXZ CE, he kept the mostly monochrome TI-86 graphics, at least for now. But the game kept and improved the expected items for a Zelda-type game: an evil person holding a princess hostage, a hero to rescue her through a fight-ridden quest. The game isn't overly easy, which makes it a longer-lasting challenge, for your pleasure!
Both programs are open source, the source code is provided alongside the binaries.