Cellar 3D - a 3D raycaster for your CE!
Posted by Xavier on 9 July 2017, 17:19 GMT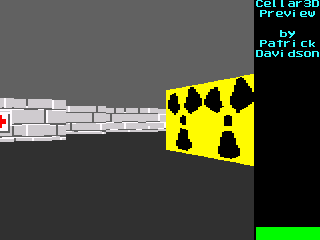 Yesterday, Patrick Davidson, author of many other featured programs over nearly 20 years (!), uploaded his latest creation so far, Cellar 3D, a "preview version of a raycasting-based 3D game for the TI-84 Plus CE / TI-83 Premium CE".
As reminded in the description, this demo currently has only one small level. There, you find yourself in a maze, where you must reach the exit, in a race against time (as the radioactivity is going to kill you!). You can pick up more time by going into the few health blocks.
The performance is quite impressive, and shows what can be achieved with C and Assembly.
A video can be found on YouTube if you want to take a longer look.
The 3D engine is based on the basic raycasting algorithm, made well famous worldwide by the Wolfenstein 3D release in 1992. Thus you're getting a grid-based world, with flat floor, same height walls and textures.
We can't wait to see what gets created next - it will surely be awesome! Are you chickening out... already?
[Edit] The author regularly pushes some updates to the game, don't hesitate to check them out - it's the same archive link!