Oiram (best-known platformer) for TI-84 Plus CE
Posted by Xavier on 5 February 2017, 21:33 GMT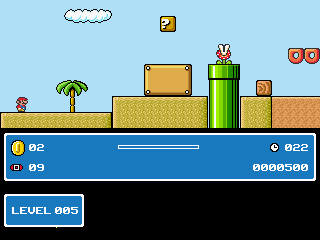 You've been eagerly awaiting it, right? It had been ported to everything that has a screen attached to it (including several times for our beloved TI-Z80 and 68k calculators)...
Super Mario, one of the stars of video games, is back once again, this time on the great TI-84 Plus CE / TI-83 Premium CE in a new game called Oiram CE !
Programmed by MateoConLechuga (creator/main contributor of CEmu, the C libraries, CE native programming tools...), Oiram CE will make you live both familiar and new adventures in the mushroom kingdom, ending by assaulting the infamous Reswob's lair. The game's smoothness as well as the various animations are objectively amazing, making it at the very least for this criterion the best Mario-like game ever made on a graphing calculator!
The various graphical elements come from "Super Mario Advance 4 - Super Mario Bros 3", the 2003 remake improved for the Nintendo Game Boy Advance of the legendary Super Mario Bros 3 from 1988 on the NES. If the 1st of the 12 levels is clearly like the first of Super Mario Bros 3, we leave quickly for original content, although inspired from some actual Mario levels here and there.
The game is very faithful to the Mario universe, the whole ecosystem of SMB 3 being present: mushroom warriors with carnivorous plants or spitting fireballs, and of course turtles. To win the game, Oiram can acquire his usual powers throughout the levels, for instance:
grow and break walls when eating mushrooms
Launch fireballs eating flowers
turn into racoon-oiram to be able to kick and fly
The open-source game is programmed in C, and requires the C libraries.
Can you master all levels in the default pack ?
If so, you can have even more fun by continuing your adventure. Indeed, Matt has included a WYSIWYG level editor for Windows (macOS/Linux compatible through Wine), which a number of community members have already taken advantage of.