This Is The Only Level CE
Posted by Xavier on 16 January 2017, 19:00 GMT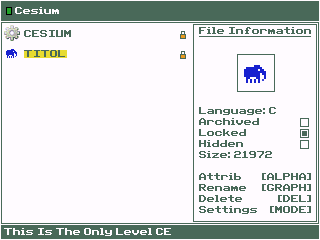 A few weeks ago, Josiah Winslow uploaded his latest game for the TI-84 Plus CE / TI-83 Premium CE: This Is The Only Level CE, adventures in singularity.
You find yourself controlling an elephant, in a room full of traps. Your goal is to reach the bottom right... from the top left. Sounds easy? You'll be the judge for that, during 30 "steps" you'll discover along the way, each of them more surprising than the previous one. The game provides quite a lot of fun for what appears to be a simple platform game, but as the description calls it, it's in fact a nice "metagaming" adventure. Since it's programmed in C (using the community libraries), it's smoother than it could have been if it were written in BASIC.
Have fun beating the one and only level! And if you're stuck somewhere, or simply want to to compare your time, here's a playthrough of the whole game, done pretty fast.