"Patience is bitter, but its fruit is sweet."
Posted by Ryan on 26 November 2014, 20:09 GMT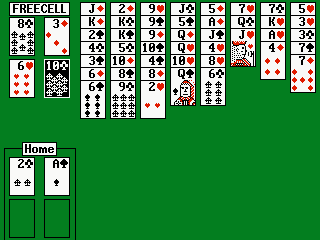 Clearly, today is a day for great nostalgia here at the internet palace that is ticalc.org. I've gone on record before professing my love for the bridges across time that our beloved calcs can foster. Sometimes this takes the form of keeping the arcade alive and breathing new life into calc classics. Sometimes, this means taking the time to appreciate some of the first games that we played on computers, games that often have been around for centuries. In this tradition, the incredibly talented Ander D'nar brings us the classic combo of "patience games": Klondike and Freecell for the 84+ CSE. Patience games often rely on planning, statistics, and sometimes just the luck of the draw, but tend to give you that distinct feeling that you almost won much of the time. This also makes the infrequent victories all the sweeter. Hey, they're classics for a reason.
Ander has really done a great job with his implementation here. Not only are there a lot of the must-have game options (e.g., scoring permutations, timers, and the Microsoft 32,000), but the author has included a number of convenience features like an idle timer to spare battery life and a save/resume game feature. Essentially, everything that you could hope for from a solid patience package is at your fingertips on the 84+ CSE. Fantastic job, Ander, and keep that great software coming!