Puzzle Frenzy for the 84+ CSE
Posted by Ryan on 26 November 2014, 19:40 GMT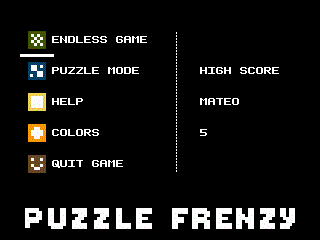 Speaking of classics that look great on the 84+ CSE, Matt Waltz brings another fan favorite to colorful life with his rendition of Puzzle Frenzy! Let's face it, the PuzzPack version from "way back when" was a staple of mobile gaming back when "mobile gaming" was still an emerging concept. Who wouldn't want a nice glossy version in color? Nobody, that's who. The addition of color makes this new version fun and stylish at no cost to the charm and enjoyment you'll experience with the time-tested "endless" and "puzzle" modes. Great job, Matt!
Reply to this article
The comments below are written by ticalc.org visitors. Their views are not necessarily those of ticalc.org, and ticalc.org takes no responsibility for their content.
There are no comments on this article yet. Why don't you add one?
Copyright © 1996-2012, the ticalc.org project. All rights reserved. | Contact Us | Disclaimer