Spaze Invaders for the 84+ CSE
Posted by Ryan on 26 November 2014, 19:20 GMT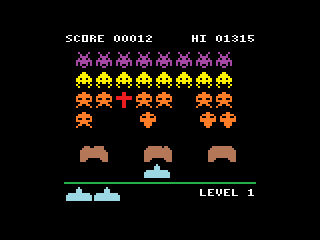 Our next Nomination November pick was released earlier this year and will likely have appeal to people who have been in the community anywhere between 15 minutes and 15 years. In fact, it taps into the very heart of early gaming itself. James Vernon has brought the calc classic Spaze Invaders up to speed with current hardware by means of a fantastic port to the 84+ CSE line. Boasting a colorful display sans cellophane and smooth alien-zapping action, this ported classic will feel uncannily at home on your 84+ CSE. Whether you're looking to relive the past on your CSE or just save the world from invaders (possibly from outer spaze), you can satisfy your needs without worrying about controversy over coin shortages. Great work, James!
As a brief reminder, there are only a few days left of Nomination November. Keep those suggestions rolling in!
Reply to this article
The comments below are written by ticalc.org visitors. Their views are not necessarily those of ticalc.org, and ticalc.org takes no responsibility for their content.
There are no comments on this article yet. Why don't you add one?

Copyright © 1996-2012, the ticalc.org project. All rights reserved. | Contact Us | Disclaimer