nKaruga for the TI-Nspire!
Posted by Ryan on 14 November 2014, 16:46 GMT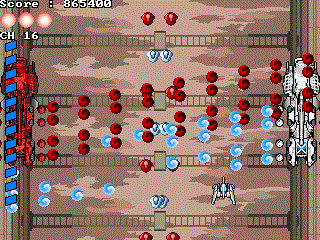 You might remember a certain shoot 'em up that came out last year during Nomination November that won more than a few hearts. Of course, I'm referring to IkarugaX for the 83/84+ calcs. The original Ikaruga is an absolutely genius cult classic that has a way of quietly resurfacing every few years on a new platform, and fans just can't get enough.
Imagine our joy, then, when IkarugaX author Mattias Refeyton released a beta version of nKaruga for the TI-Nspire series! While this is "only" a beta and currently features only the first level, it shows some serious promise. Not only does it look great (which it does), it highlights the fact that everything one would want from this game can be done, and done well. The polarity-switching mechanic is faithful to the original, the game is responsive (a must-have for a shooter of this type), and it even features a boss battle! Building chains and power cells? That's there too!
Despite being in a relatively early stage of development, there's a lot of good stuff going on here. We absolutely hope to see Mattias continue with further development on this game. Check out the instructions (or the GitHub page) for more detailed info on compatibility / gameplay info. Once again, awesome job to Mattias, and thanks to everyone who suggested this title for Nomination November!