Reuben Quest: The Lost Mirror
Posted by Ryan on 14 November 2014, 16:28 GMT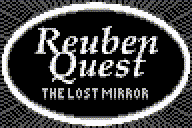 Earlier this year, we were absolutely thrilled to see Sorunome release a fantastic remake of Reuben Quest: Ev Awakening for our z80 calcs. It looked great, played great, and had all of the markings of an expertly-developed piece. If you've played it, beat it, and couldn't stop hungering for more, fear not! The much-awaited sequel is here!
Sorunome has lovingly recaptured the charm and magic of the original RQ: The Lost Mirror in yet another stunning remake of a calculator classic. While his previous remake was done in the game-changing Axe Parser, this new work appears to have been lovingly crafted in assembly. There's honestly not too much that I can say that shouldn't be obvious already. If you loved the first Reuben Quest game, you'll love this fantastic sequel as well. Seriously, everything about it is just a blast, and it shines in every aspect that a calc game in this genre should. Play it!
Thanks to Sorunome, and all of the fine folks who recommended this title for Nomination November! We've been getting a lot of great requests, and we're doing our best to review the submissions and keep the ball rolling!