Jezzball and Dino Puzzle
Posted by Ryan on 4 February 2014, 02:42 GMT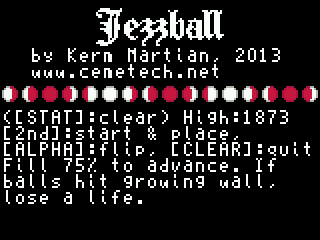 Welcome back from our brief New Year's hiatus! We hope that the beginning of 2014 has been a good one for all of you, and we're looking forward to another exciting year in the world of calculators!
With that out of the way, let's pick up right where we left off! Right at the close of Nomination November, some fresh iterations of the classic JezzBall made their way to our archives. The game itself is a classic dating back over two decades, thereafter spawning multiple clones and derivatives. In his multi-release, Christopher "Kerm Martian" Mitchell has monochrome and color calcs both covered, ensuring that anyone with any 83+/84+ model with an itch for puzzling action will be satisfied.
Looking for even more puzzle action? Shaun "Merthsoft" McFall is on the case. Many of you know that Dino Puzzle is a calc classic from the infamous PuzzPack. After all, what could be better? Why, a color version, of course! Shaun has also included the source code, which can serve as a great reference for those interested in taking full advantage of xLIB and Doors CSE 8 in a learn-by-doing fashion.
Great job, guys!
Reply to this article
The comments below are written by ticalc.org visitors. Their views are not necessarily those of ticalc.org, and ticalc.org takes no responsibility for their content.
Re: Jezzball and Dino Puzzle
Merthsoft

Oh cool! Thanks Ryan! I will say that Dino Puzzle is probably the least suited to BASIC of the PuzzPack quartet. It was fun to make, though, and definitely will be a good reference for anyone wanting to do 16x16 stuff in xLIB, which takes some extra handling.

As for JezzBall, that game's sweet, and it's so much fun to play on the color calculator! Very good job, Kerm!

Reply to this comment
4 February 2014, 13:17 GMT
Re: Jezzball and Dino Puzzle
KermMartian
(Web Page)

Thanks for the feature, Ryan! I was frustrated that existing versions for the monochrome calculator didn't quite follow the original rules, and that there were no color versions at all, so I figured I'd challenge myself to create a version I could assemble for both the monochrome and color calculators from the same source. And of course many congratulations to Merthsoft for a wonderful game that takes good advantage of xLIBC. If you want to see what other great PuzzPack-related work he's done, he also made BlockDude in color for a recent Cemetech contest.

Reply to this comment
4 February 2014, 17:09 GMT





Re: Re: Re: Jezzball and Dino Puzzle
KermMartian
(Web Page)

Indeed, I'm thrilled that Patrick and I were able to work together on this. I know that Doors CSE's hybrid BASIC features would have been a great deal less spiffy without Patrick's indefatigable work on xLIBC.

Reply to this comment
11 February 2014, 00:13 GMT