Doors CSE 8.0 Released
Posted by Ryan on 7 November 2013, 16:54 GMT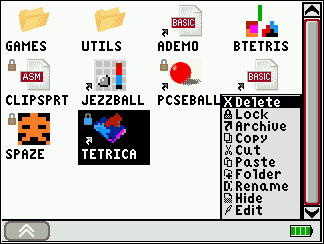 It wasn't too long ago that we had a little retirement party for Doors CS 7. While DCS 7 is at home, polishing its solid gold(-plated) watch, its nephew, Doors CSE 8 has recently entered the workforce. DCSE 8 is everything that one has come to expect from the Doors shells these days, including improved editor alpha-scrolling, Celtic 2 CSE, and a CSE iteration of xLIB (authored by programming superhero, Patrick Prendergast). DCS 8 further validates that Christopher "Kerm Martian" Mitchell is having no problems in paving the way for color-edition awesomeness!
Reply to this article
The comments below are written by ticalc.org visitors. Their views are not necessarily those of ticalc.org, and ticalc.org takes no responsibility for their content.
Re: Doors CSE 8.0 Released
KermMartian
(Web Page)

Thanks for the feature, Ryan! I'm indebted to the beta-testers at Cemetech and elsewhere who helped make this as stable and bug-free as possible, and to tr1p1ea (Patrick) for his tireless work on xLIBC despite the pressures of real life. I can't wait to see what games and programs people create for Doors CSE.

Reply to this comment
11 November 2013, 01:17 GMT
Re: Doors CSE 8.0 Released
Merthsoft

This is very good news! Having xLib and Celtic libraries together, I think, is what really makes this a wicked powerful app. And since it's getting out there so early in the 84+CSE's lifecycle, hopefully there'll be lots of adoption, and BASIC programmers can make some awesome stuff!

I wonder when Kevin will make Illusiat Color! :D

Reply to this comment
13 November 2013, 13:24 GMT





Re: Re: Doors CSE 8.0 Released
KermMartian
(Web Page)

Thanks! From an ASM programmer's standpoint, I'm equally excited that ASM programs can be up to about 20KB instead of only 8KB, and that I don't have to keep re-writing sprite and math routines for every game I write.

Reply to this comment
14 November 2013, 17:21 GMT

Copyright © 1996-2012, the ticalc.org project. All rights reserved. | Contact Us | Disclaimer