Nomination November / Steins;Gate 8-bit
Posted by Ryan on 6 November 2013, 00:03 GMT
We are officially into the midst of November, a month often celebrated for harvests, feasts, and merriment in various cultures and parts of the Western world. Here at ticalc.org, we have quite a bounty ourselves, a veritable cornucopia of software provided to us by all of you great people out there in calculator land. As you know, the wintry throes of December will also bring us the legendary Program of the Year contest here at ticalc.org.
But wait! In order to qualify for POTY eligibility, programs must be featured prior to next month. As such, let it heretofore be known as "Nomination November" here at ticalc.org. Make sure to let us know what programs you would like to see featured! We have some catching-up to do, and we certainly don't want to overlook any of the many deserving releases from this year! Send an e-mail to contact@ticalc.org or myself with your suggestions! And remember, when 2014 rolls around, you can't complain about missed opportunities if you didn't nominate anything for a feature -- this rule will be enforced by means of new, powerful, laser-enhanced space robots from a certain evil lair of which you may have heard.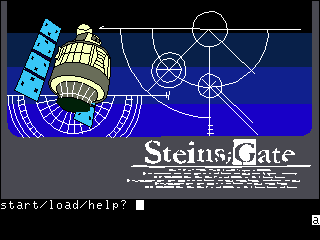 Now, with that out of the way, let's get this month off to a proper start. We've all come to expect nothing but the best from Brendan "calc84maniac" Fletcher, and he does not disappoint with his latest release. Steins;Gate 8-bit is a breathtaking clone of a series-spinoff, which itself was based upon the critically-acclaimed visual novel, Steins;Gate. Being a descendent of interactive fiction, commands are used to navigate the world, allowing you to take in the great art and story presentation. Featuring vector art and music (wait? music?!), we're all quite excited to see what will come from this project. A major tip of the hat to Brendan -- I can't imagine a better way to kick off the month!