ztrumpet Releases Exodus
Posted by Travis on 4 December 2010, 07:26 GMT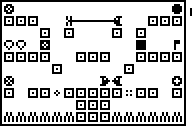 Exodus by "ztrumpet" is another one of those very rare yet impressive pure-BASIC 83+/84+ games that push the limits in the action/puzzle genre. This platform puzzler features 24 levels, moving enemies, jumping, shooting, gems to collect, switches that control tiles, and unlockable secrets. Another notable feature is that the entire game is self contained in a single program variable for convenience.
Reply to this article
The comments below are written by ticalc.org visitors. Their views are not necessarily those of ticalc.org, and ticalc.org takes no responsibility for their content.
Re: ztrumpet Releases Exodus
Kevin Ouellet
(Web Page)

Awesome! I'm glad it was finally featured, I was worried it would get missed. I think this is a great game for BASIC and on top of that it's pure-BASIC. Not that ASM libs are bad (I even used them in the past) but you don't see a good looking BASIC game that runs at decent speed and have awesome features everyday.

Will this be included in 2010 POTY, btw, since the TI-81 survey is still running?

Reply to this comment
4 December 2010, 08:38 GMT



Re: Re: ztrumpet Releases Exodus
Astrid Smith
(Web Page)

Because it was featured after 01-Dec-2010, Exodus won't be in the 2010 POTY vote. The POTY year is from 01-Dec to 30-Nov the next year. It will be in the 2011 POTY vote.

Reply to this comment
4 December 2010, 11:03 GMT



Re: Re: Re: ztrumpet Releases Exodus
DavidG
(Web Page)

That's a shame, Exodus would be a great contestant!

Reply to this comment
4 December 2010, 11:45 GMT





Re: Re: Re: ztrumpet Releases Exodus
Kevin Ouellet
(Web Page)

I see. I wasn't sure since the program was approved before December. In 2007 Doom 68K got added in the 2007 POTY even if it got approved after December because it was uploaded before that. I think it was uploaded several weeks before, though.

Reply to this comment
4 December 2010, 20:13 GMT





Re: Re: ztrumpet Releases Exodus
Travis Evans

I almost did miss it because I somehow overlooked it [which I personally seem to be good at in general :-) ] and I don't think anyone directly brought it to my attention this time. I feel kind of bad that I didn't find out soon enough to have it featured in time for this year's POTY contest as it deserved to, being released before the cutoff. But remember, I still rely quite heavily on user feedback in case I miss things!

Reply to this comment
4 December 2010, 11:30 GMT
Re: ztrumpet Releases Exodus
Joey Belgier

Awesome to see this being featured. Ever since ZTrumpet joined Omnimaga and showed off his work I have been impressed, like "Drifter", which was a complete Basic game too. I'm impressed by the way how he makes Basic games fast, fun, challenging, varied AND graphically impressing. It's about time he gets some recognition on here :D

Reply to this comment
4 December 2010, 11:07 GMT
Re: ztrumpet Releases Exodus
DavidG
(Web Page)

I just wrote a review for it :)

Also, I've been writing many reviews, but not many get to show up. Why?

Reply to this comment
4 December 2010, 11:51 GMT





Re: Re: ztrumpet Releases Exodus
Joey Belgier

It's due to the Ticalc administrating being quite slow. I remember writing a review once on a previous account (can't remember username, password nor e-mail adress, damn inactivity) and it took weeks before it got added. Patience is the key I guess.

Reply to this comment
4 December 2010, 19:39 GMT
Re: ztrumpet Releases Exodus
ASHBAD_ALVIN

I remember when this showed up on omnimaga.org and I just said: wow, this is beast!

this game is truly the best platformer in PURE tibasic, beating even portal and contra!

great job, ztrumpet!

Reply to this comment
4 December 2010, 16:48 GMT





Re: Re: ztrumpet Releases Exodus
DavidG
(Web Page)

Those are very good, but this one, I believe, is faster :D

Reply to this comment
4 December 2010, 19:10 GMT





Re: Re: Re: ztrumpet Releases Exodus
ASHBAD_ALVIN

Contra was pretty slow, but portal was about this speed. Either way though, you are right this is a really fast BASIC game!

Reply to this comment
4 December 2010, 21:26 GMT