Can't Decide on a Favorite Classic? Play them All at Once!
Posted by Travis on 7 November 2010, 15:12 GMT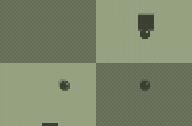 Do you consider yourself good at Avoid, Falldown, Keepitin, and Pong? Good enough that you could play them in your sleep? What about playing more than one of them simultaneously? Deep Thought's Axe program Simul brings a creative idea to the table: Which game you're playing changes randomly every 15 seconds. If you survive, then you're challenged to play two of them at the same time—and if you can handle that, four! But make one mistake, and it's over. Try it out and see how good you really are at multitasking.
Reply to this article
The comments below are written by ticalc.org visitors. Their views are not necessarily those of ticalc.org, and ticalc.org takes no responsibility for their content.
Re: Can't Decide on a Favorite Classic? Play them All at Once!
Kevin Ouellet
(Web Page)

I tried this and it's very nice. It's very challenging, though, so you might need practice. Also the game looks MUCH better on-calc than in the animated screenshot on the page (mind re-uploading a new one Deep Thought?)

Reply to this comment
7 November 2010, 17:45 GMT
Re: Can't Decide on a Favorite Classic? Play them All at Once!
schoolhacker hacker

a bit too slow for my taste though... :P
it would be more fun if you could specify the starting speed...

but yeah...
congrats on having it featured!!! :)

Reply to this comment
7 November 2010, 23:20 GMT



Re: Re: Can't Decide on a Favorite Classic? Play them All at Once!
Kevin Ouellet
(Web Page)

Oh I thought he did in this version O.o. I remember I suggested this before. I might have forgot to hit submit when posting, though. I got a bit annoyed when I wanted to play in fast mode XD.

Reply to this comment
8 November 2010, 01:06 GMT





Re: Re: Can't Decide on a Favorite Classic? Play them All at Once!
Deep Thought
(Web Page)

Yeah, you can. Press LEFT for slow, RIGHT for fast, and DEL for superhard. Default is slow, by the way.

This is going to be updated soon because I accidentally put up a buggy version, though.

Reply to this comment
8 November 2010, 01:50 GMT
Re: Can't Decide on a Favorite Classic? Play them All at Once!
darl 181

This game is great, well deserving of the feature. The screenshots really are nothing compared to what it looks like on the real calc. I tried this myself and could hardly get 10 seconds into level 2.
Great job.

Reply to this comment
8 November 2010, 19:38 GMT
Re: Can't Decide on a Favorite Classic? Play them All at Once!
Compynerd255
(Web Page)

This game is pretty good. I really like the concept and the way it is designed, especially with the contrast fades they throw in there. The sprites could use some improvement, though, and there are a few bugs that could be fixed (such as the ball hitting the corner in Keepitin and thus making the game unwinnable), but overall, it is a very great game.

One thing that's in this game that I thought was funny was that when you select Superhard (Teenage Mutant) mode, the background changes from a solid color to "Never gonna give you up, never gonna let you down, never gonna run around and desert you." There also seemed to be no speed increase from Hard mode. I asked my friend about this, and he said that it was a reference to the Rickroll video, which people often link to to trick you (Click here for a secret game cheat!). :)

Reply to this comment
9 November 2010, 15:29 GMT





Re: Re: Can't Decide on a Favorite Classic? Play them All at Once!
Kevin Ouellet
(Web Page)

Wait there was a 3rd difficulty mode? I didn't even notice. I tried the version submitted for the Omnimaga contest.

Reply to this comment
9 November 2010, 19:57 GMT





Re: Re: Re: Can't Decide on a Favorite Classic? Play them All at Once!
ztrumpet

Yup, the third mode was in that version too; you have to press [Del] to get it, and so in order to find it you must read the readme. :)

Congrats Deep Thought!

Reply to this comment
9 November 2010, 20:40 GMT