A Map-based TI-81 RPG: Illusiat TI-81 Remake
Posted by Travis on 30 May 2010, 20:16 GMT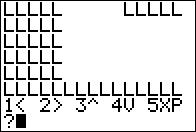 Created before the TI-81 ASM exploit became public, Kevin Ouellet's remake of Illusiat for the TI-81 is an RPG that pushes the TI-81's incredibly limited TI-BASIC programming capabilities beyond anything I've seen for that calculator. Using every one of the 37 available subprograms to save every last byte of space, it just manages to fit inside the TI-81's 2400 bytes of program memory and takes advantage of the matrix variables to store map data without counting against the program/statistics storage limitation. The game is necessarily input-based (enter a number followed by Enter for every input) since the TI-81's only input instruction is Input, but for this platform's extreme limitations, it is nonetheless impressive.
Because the long-discontinued TI-81 is becoming increasingly rare and entering the game into an actual TI-81 involves a great deal of typing due to the lack of a link port, ports of the game are available for the TI-73, TI-82, TI-83, TI-83+/84+, TI-85, and TI-86 to give a wide audience a chance to see what the game would be like on the original calculator.