Flash Drives on a Calculator
Posted by Michael on 12 September 2006, 04:43 GMT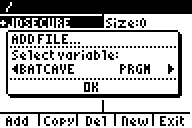 As the result of a group effort between myself, Brandon Wilson, and Dan Englender, we have released msd8x v0.94, which allows the use of ordinary USB flash drives with a TI-84 Plus. Brandon has been laboring all summer long on finishing the driver and GUI to be acceptable for public usage, and thanks to his dedication and adding of nifty features it is at last at the stage for a general release. Information on downloading and running msd8x can be found at the WikiTI calculator wiki.
With the appropriate cable, you can browse, modify, and copy (in both directions) files between a flash drive and the 84+'s RAM and/or archive. msd8x also supports the running of ION and MirageOS programs directly from a flash drive.