PowerComPress Released
Posted by Michael on 4 November 2005, 02:01 GMT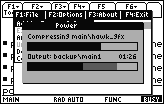 PowerComPress is a new compression utility for the 89/92+/V200. Running on your 68k calculator, it allows you to compress files and store them in "GroupFiles", much like zip files on a computer. There are a few options that contribute to the usefulness of this, such as being able to delete the source files after compressing them and automatically archiving your group files.
Reply to this article
The comments below are written by ticalc.org visitors. Their views are not necessarily those of ticalc.org, and ticalc.org takes no responsibility for their content.
Re: PowerComPress Released
Ranman

Way to go Saubue! This ought to be a very handy tool to have in our bags (of FLASH). Not to mention... very professional looking!

Reply to this comment
4 November 2005, 02:32 GMT



Re: Re: PowerComPress Released
Ranman
(Web Page)

This also demonstrates great use of your powerful Advanced Dialogs program (see the web link).



Reply to this comment
4 November 2005, 13:52 GMT





Re: Re: Re: PowerComPress Released
thechessmaster88

I don't quite understand the purpose behind file compressors. If these compressed files could be run by starters like Superstart, I would most certainly use them.

On a similar note, using Ghostbuster to patch a PPG file often creates a much larger ASM file. I think I tried using ttppggen.exe to compress the patched files, but the newly-compressed programs won't work on the 89-titanium. What should I do to get my patched compressed files?

Reply to this comment
5 November 2005, 02:44 GMT





Re: Re: Re: Re: PowerComPress Released
Kevin Kofler
(Web Page)

Use a launcher compatible with the Titanium, e.g. ttstart 2.00.

Reply to this comment
5 November 2005, 03:06 GMT





Re: Re: PowerComPress Released
saubue
(Web Page)

Oh, cool, my program got featured :D (i couldn't access the internet for a week now...).

Thank you a lot for giving your font to me, Ranman! It made the browser look much better.

Reply to this comment
8 November 2005, 18:22 GMT





Re: Re: PowerComPress Released
calkfreak83
(Web Page)

Not on the calculator.. but Lite8x [it comes with Omnicalc..] compresses programs on the 83+ and 84+ calculators.I believe you can delete the source program with this also, but you still need the original amount of RAM free to run it.

Reply to this comment
4 November 2005, 03:10 GMT



Re: Re: Re: PowerComPress Released
calkfreak83
(Web Page)

Sorry.. had to find the link.. its up there, and if it doesn't work, here it is:

http:// www.ticalc.org/ archives/ files/ fileinfo/ 226/ 22626.html

Reply to this comment
4 November 2005, 03:13 GMT





Re: Re: PowerComPress Released
David
(Web Page)

Yea I remember that. DoorsOS changed the compression at one time so it didn't work with their original compressor. I think I still have data files on my calc that I can't access because of that, and I know I have all the needed backups somewhere.. it has been so long since I felt like messing with it. College changed my priorities a little. :)

PowerComPress looks very interesting. Thanks for supporting the GPL.

Reply to this comment
7 November 2005, 08:45 GMT
Re: PowerComPress Released
jujaga

Good Job Jonas! It's something that i've been waiting for, as that the best compression program up till now was pepzip in my opinon. Keep up the good work! :D

Reply to this comment
4 November 2005, 04:34 GMT





Re: Re: PowerComPress Released
Calcinator

It looks very nice. I'll have to test it out.
<offtopic> Yay! I finally got my TI-89 Titanium! </offtopic>

Reply to this comment
4 November 2005, 23:07 GMT