The Legend of Zelda: Dark Link Quest (2004)
FILE INFORMATION
Ranked as 15211 on our all-time top downloads list with 3423 downloads.
Ranked as 1683 on our top downloads list for the past seven days with 6 downloads.

zeldadlq.zip
| | |
| --- | --- |
| Filename | zeldadlq.zip (Download) |
| Title | The Legend of Zelda: Dark Link Quest (2004) |
| Description | The Legend of Zelda: Dark Link Quest is my first *successful* attempt at Action-RPG programming. In 2002, I started making one, but my BASIC skills were not high enough to make such a game. Now, after more than 3 years of experience in TI-BASIC programming, I finally did it: a TRUE Zelda is finally available on your TI-83+!!!!!! It's in BASIC, so it's slow but it keeps most Zelda features, from the Hookshot item to the classic smooth scrolling when Link reaches the edge of the screen!!! It also features 180 rooms to explore, 3 swords from "Ocarina of Time", lot of side quests (heart containers and empty bottles), many GFX never seen before on the home screen and more! |
| Author | DJ Omnimaga Music (omnimaga@gmail.com) |
| Category | TI-83/84 Plus BASIC Games (Role-playing) |
| File Size | 534,873 bytes |
| File Date and Time | Wed Feb 4 02:07:37 2015 |
| Documentation Included? | Yes |
SCREEN SHOTS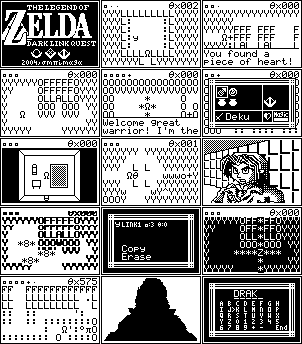 REVIEWS

There are no reviews for this file.
LEAVE FEEDBACK

Questions, comments, and problems regarding the file itself should be sent directly to the author(s) listed above.

Write a review for this file (requires a free account)

Report inappropriate or miscategorized file (requires an account; or you may email us directly)



If you have downloaded and tried this program, please rate it on the scale below


ARCHIVE CONTENTS

Archive Contents
| Name | Size |
| --- | --- |
| zeldadlq_ti_graph_link_compatible.zip | 206941 |
| old animated screenshots/screenshots.txt | 163 |
| old animated screenshots/version007.gif | 18279 |
| old animated screenshots/version022.gif | 64688 |
| old animated screenshots/version038.gif | 18950 |
| old animated screenshots/version045.gif | 46676 |
| old animated screenshots/version070.gif | 43869 |
| archive/PICTURE1.8XG | 21757 |
| archive/PICTURE2.8XG | 6257 |
| archive/ZB1.8XP | 532 |
| archive/ZB1B.8XP | 166 |
| archive/ZB1C.8XP | 234 |
| archive/ZB1D.8XP | 280 |
| archive/ZB1E.8XP | 159 |
| archive/ZB1F.8XP | 143 |
| archive/ZB1G.8XP | 142 |
| archive/ZB2.8XP | 684 |
| archive/ZB2B.8XP | 876 |
| archive/ZB2B1.8XP | 157 |
| archive/ZB2B2.8XP | 150 |
| archive/ZB2B3.8XP | 194 |
| archive/ZB2C.8XP | 89 |
| archive/ZB2D.8XP | 254 |
| archive/ZB3.8XP | 381 |
| archive/ZB3A.8XP | 171 |
| archive/ZB3A0.8XP | 335 |
| archive/ZB3A1.8XP | 102 |
| archive/ZB3A2.8XP | 108 |
| archive/ZB3A3.8XP | 93 |
| archive/ZB3A4.8XP | 140 |
| archive/ZB3A5.8XP | 92 |
| archive/ZB3C1.8XP | 100 |
| archive/ZB3N0.8XP | 123 |
| archive/ZB3N1.8XP | 111 |
| archive/ZB4.8XP | 215 |
| archive/ZB4A.8XP | 1738 |
| archive/ZB4B.8XP | 1514 |
| archive/ZB4C.8XP | 491 |
| archive/ZB4D.8XP | 1528 |
| archive/ZB4E.8XP | 133 |
| archive/ZB4F.8XP | 84 |
| archive/ZB4G.8XP | 183 |
| archive/ZB4H.8XP | 123 |
| archive/ZB4I.8XP | 118 |
| archive/ZB4J.8XP | 95 |
| archive/ZB4K.8XP | 713 |
| archive/ZBDW.8XP | 279 |
| archive/ZBLF.8XP | 277 |
| archive/ZBOSS.8XP | 1666 |
| archive/ZBOSS2.8XP | 1838 |
| archive/ZBOSS3.8XP | 1609 |
| archive/ZBOSS4.8XP | 586 |
| archive/ZBRG.8XP | 278 |
| archive/ZBUP.8XP | 278 |
| archive/ZD6B.8XP | 119 |
| archive/ZD6C.8XP | 119 |
| archive/ZD8.8XP | 513 |
| archive/ZD8B.8XP | 321 |
| archive/ZDEAD.8XP | 355 |
| archive/ZDOOR1.8XP | 391 |
| archive/ZDOOR10.8XP | 430 |
| archive/ZDOOR11.8XP | 1304 |
| archive/ZDOOR12.8XP | 288 |
| archive/ZDOOR13.8XP | 527 |
| archive/ZDOOR14.8XP | 823 |
| archive/ZDOOR15.8XP | 499 |
| archive/ZDOOR2.8XP | 232 |
| archive/ZDOOR3.8XP | 252 |
| archive/ZDOOR4.8XP | 388 |
| archive/ZDOOR5.8XP | 370 |
| archive/ZDOOR5B.8XP | 324 |
| archive/ZDOOR6.8XP | 891 |
| archive/ZDOOR7.8XP | 232 |
| archive/ZDOOR8.8XP | 1098 |
| archive/ZDOOR9.8XP | 610 |
| archive/ZDOORA.8XP | 831 |
| archive/ZE1LOAD.8XP | 396 |
| archive/ZE2LOAD.8XP | 170 |
| archive/ZESP1.8XP | 246 |
| archive/ZESP2.8XP | 153 |
| archive/ZFIX.8XP | 908 |
| archive/ZHDW.8XP | 397 |
| archive/ZHEART2.8XP | 367 |
| archive/ZHEART3.8XP | 524 |
| archive/ZHLF.8XP | 416 |
| archive/ZHOUSE.8XP | 537 |
| archive/ZHRG.8XP | 417 |
| archive/ZHUP.8XP | 396 |
| archive/ZINTRO.8XP | 3135 |
| archive/ZITEM.8XP | 105 |
| archive/ZITEM1.8XP | 656 |
| archive/ZITEM2.8XP | 740 |
| archive/ZITEM3.8XP | 377 |
| archive/ZITEM4.8XP | 1316 |
| archive/ZLOAD.8XP | 3613 |
| archive/ZLOAD2.8XP | 162 |
| archive/ZLOAD3.8XP | 618 |
| archive/ZLOAD4.8XP | 450 |
| archive/ZLOAD5.8XP | 783 |
| archive/ZLOAD6.8XP | 174 |
| archive/ZMAP1.8XP | 2330 |
| archive/ZMAP2.8XP | 2142 |
| archive/ZMAP3.8XP | 2668 |
| archive/ZMAP4.8XP | 2856 |
| archive/ZMAP5.8XP | 2649 |
| archive/ZMAP6.8XP | 2283 |
| archive/ZMAP7.8XP | 2400 |
| archive/ZMAP8.8XP | 2471 |
| archive/ZMAP9.8XP | 1376 |
| archive/ZMAPA.8XP | 1444 |
| archive/ZMENU.8XP | 1532 |
| archive/ZMS.8XP | 598 |
| archive/ZSAVE.8XP | 586 |
| archive/ZSDW.8XP | 312 |
| archive/ZSLF.8XP | 299 |
| archive/ZSRG.8XP | 300 |
| archive/ZSTOP.8XP | 680 |
| archive/ZSUP.8XP | 297 |
| archive/ZSWTCHD1.8XP | 439 |
| archive/ZSWTCHD2.8XP | 717 |
| archive/ZSWTCHD3.8XP | 604 |
| archive/ZT2.8XP | 394 |
| archive/ZT3.8XP | 332 |
| archive/ZTK1.8XP | 577 |
| archive/ZTK2.8XP | 610 |
| archive/ZTK3.8XP | 598 |
| archive/ZTK4.8XP | 539 |
| archive/ZTREASUR.8XP | 461 |
| RAM/Part 1/INSTALL1.8xp | 215 |
| RAM/Part 1/INSTALL2.8xp | 115 |
| RAM/Part 2/DLQ.8xp | 777 |
| RAM/Part 2/R.8xp | 908 |
| RAM/Part 2/SETCON.8xp | 107 |
| RAM/Part 2/SHIFT.8xp | 107 |
| RAM/Part 2/theta.8xp | 106 |
| RAM/Part 2/Z.8xp | 406 |
| RAM/Part 2/ZADW.8xp | 344 |
| RAM/Part 2/ZALF.8xp | 312 |
| RAM/Part 2/ZAPDW.8xp | 171 |
| RAM/Part 2/ZAPI.8xp | 898 |
| RAM/Part 2/ZAPLF.8xp | 171 |
| RAM/Part 2/ZAPRG.8xp | 171 |
| RAM/Part 2/ZAPUP.8xp | 171 |
| RAM/Part 2/ZARG.8xp | 311 |
| RAM/Part 2/ZAUP.8xp | 327 |
| RAM/Part 2/ZD0.8xp | 467 |
| RAM/Part 2/ZD1.8xp | 424 |
| RAM/Part 2/ZD1B.8xp | 149 |
| RAM/Part 2/ZD1C.8xp | 107 |
| RAM/Part 2/ZD2.8xp | 493 |
| RAM/Part 2/ZD3.8xp | 432 |
| RAM/Part 2/ZD4.8xp | 382 |
| RAM/Part 2/ZD6.8xp | 498 |
| RAM/Part 2/ZD7.8xp | 407 |
| RAM/Part 2/ZD8A.8xp | 149 |
| RAM/Part 2/ZD8C.8xp | 133 |
| RAM/Part 2/ZDEL.8xp | 132 |
| RAM/Part 2/ZDOOR.8xp | 836 |
| RAM/Part 2/ZE1.8xp | 230 |
| RAM/Part 2/ZE1A.8xp | 107 |
| RAM/Part 2/ZE1B.8xp | 107 |
| RAM/Part 2/ZE1C.8xp | 108 |
| RAM/Part 2/ZE1D.8xp | 108 |
| RAM/Part 2/ZE2.8xp | 404 |
| RAM/Part 2/ZE2A.8xp | 104 |
| RAM/Part 2/ZE2B.8xp | 104 |
| RAM/Part 2/ZE2C.8xp | 97 |
| RAM/Part 2/ZE2D.8xp | 97 |
| RAM/Part 2/ZE3.8xp | 186 |
| RAM/Part 2/ZE3A.8xp | 117 |
| RAM/Part 2/ZE3B.8xp | 133 |
| RAM/Part 2/ZE3C.8xp | 245 |
| RAM/Part 2/ZE3D.8xp | 97 |
| RAM/Part 2/ZE3E.8xp | 108 |
| RAM/Part 2/ZE4.8xp | 172 |
| RAM/Part 2/ZE4A.8xp | 107 |
| RAM/Part 2/ZE4B.8xp | 129 |
| RAM/Part 2/ZE6A.8xp | 107 |
| RAM/Part 2/ZE6B.8xp | 107 |
| RAM/Part 2/ZFA.8xp | 89 |
| RAM/Part 2/ZFADEIN.8xp | 115 |
| RAM/Part 2/ZFADEIN2.8xp | 99 |
| RAM/Part 2/ZFADEOU2.8xp | 101 |
| RAM/Part 2/ZFADEOUT.8xp | 119 |
| RAM/Part 2/ZFAIRY.8xp | 141 |
| RAM/Part 2/ZFB.8xp | 89 |
| RAM/Part 2/ZHEALTH.8xp | 133 |
| RAM/Part 2/ZHEART.8xp | 251 |
| RAM/Part 2/ZHIT.8xp | 315 |
| RAM/Part 2/ZHIT1.8xp | 262 |
| RAM/Part 2/ZHIT2.8xp | 323 |
| RAM/Part 2/ZHIT3.8xp | 157 |
| RAM/Part 2/ZHIT4.8xp | 276 |
| RAM/Part 2/ZHIT6.8xp | 268 |
| RAM/Part 2/ZHIT8.8xp | 220 |
| RAM/Part 2/ZI.8xp | 101 |
| RAM/Part 2/ZLOADMAP.8xp | 189 |
| RAM/Part 2/ZLSPR.8xp | 590 |
| RAM/Part 2/ZM.8xp | 159 |
| RAM/Part 2/ZMAP.8xp | 112 |
| RAM/Part 2/ZMAPB.8xp | 90 |
| RAM/Part 2/ZPIC.8xp | 141 |
| RAM/Part 2/ZPLANT.8xp | 147 |
| RAM/Part 2/ZS.8xp | 112 |
| RAM/Part 2/ZST.8xp | 122 |
| RAM/Part 2/ZST2.8xp | 101 |
| RAM/Part 2/ZT.8xp | 96 |
| RAM/Part 2/ZT1.8xp | 96 |
| RAM/Part 2/ZTALK.8xp | 526 |
| RAM/Part 2/ZTK.8xp | 94 |
| extra_readme.txt | 14527 |
| logo.gif | 7912 |
| readme.doc | 601088 |
| screenshots.gif | 9507 |
| version_history.txt | 6815 |

Copyright © 1996-2012, the ticalc.org project. All rights reserved. | Contact Us | Disclaimer