Mercury 1.1 for TI-92 Plus and Voyage 200
FILE INFORMATION
Ranked as 14515 on our all-time top downloads list with 3598 downloads.
Ranked as 21581 on our top downloads list for the past seven days with 1 downloads.

mercuryti92p.zip
| | |
| --- | --- |
| Filename | mercuryti92p.zip (Download) |
| Title | Mercury 1.1 for TI-92 Plus and Voyage 200 |
| Description | A high-performance grayscale shoot-em-up game, for both the TI-92 Plus and Voyage 200. Features a horizontal parallax scrolling background, with white on black for best display results. This game has many types of enemies as well as bonuses (extra weapons, etc.) for the player. It also features save game and a high score table. This program is nostub so no shell or kernel is required. It should be compatible with all HW and AMS versions except the very old AMS 1.00 (tested up through AMS 3.10). This program can be redistributed or modified with no restrictions. |
| Author | Patrick Davidson (pad@ocf.berkeley.edu) |
| Category | TI-92 Plus Assembly Games |
| File Size | 116,532 bytes |
| File Date and Time | Thu Apr 19 23:08:59 2012 |
| Documentation Included? | Yes |
| Source Code Included? | Yes |
SCREEN SHOTS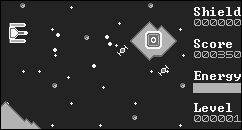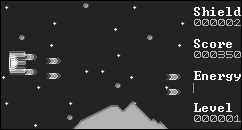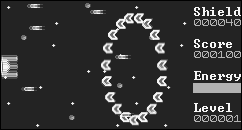 REVIEWS
Review
Review by
Jeremiah Simpkins
Reviewed on
2013-01-30
This is another GREAT assembly game for the TI-92 Plus. Plays similar to Phoenix in that you have to shoot the enemies to advance, the enemies and bosses are a little more challenging and weapon upgrades take place in game via item drops from enemies, so there's no in game shop or cash involved. Again, its more challenging than Phoenix in my opinion, but it makes it that much more engaging!
LEAVE FEEDBACK

Questions, comments, and problems regarding the file itself should be sent directly to the author(s) listed above.

Write a review for this file (requires a free account)

Report inappropriate or miscategorized file (requires an account; or you may email us directly)



If you have downloaded and tried this program, please rate it on the scale below


ARCHIVE CONTENTS

Archive Contents
| Name | Size |
| --- | --- |
| arc.bat | 293 |
| back.asm | 8656 |
| build.bat | 221 |
| bullets.asm | 2786 |
| collide.asm | 3353 |
| disp89.asm | 5508 |
| disp92.asm | 6205 |
| drawspr.asm | 6168 |
| ebullets.asm | 4466 |
| endgame.asm | 8729 |
| enemies.asm | 3053 |
| enemies2.asm | 26381 |
| eshoot.asm | 2417 |
| gray.asm | 11278 |
| hitenemy.asm | 16941 |
| hityou.asm | 3658 |
| init.asm | 8370 |
| levels.asm | 18390 |
| lib.asm | 7018 |
| maps.asm | 3199 |
| maps/bmap.asm | 655 |
| maps/bmap.gsm | 904 |
| maps/btile.asm | 1208 |
| maps/btile.gst | 2330 |
| maps/fmap.asm | 3652 |
| maps/fmap.gsm | 4224 |
| maps/fmap2.asm | 2977 |
| maps/fmap2.gsm | 3459 |
| maps/fmap3.asm | 1735 |
| maps/fmap3.gsm | 2064 |
| maps/fmap4.asm | 1759 |
| maps/fmap4.gsm | 2109 |
| maps/fmap5.asm | 1627 |
| maps/fmap5.gsm | 1929 |
| maps/ftile.asm | 17427 |
| maps/ftile.gst | 19490 |
| maps/m0.asm | 460 |
| maps/m1.asm | 2714 |
| maps/m2.asm | 2643 |
| maps/m3.asm | 1343 |
| maps/m4.asm | 1539 |
| maps/m5.asm | 1253 |
| maps/pack.bat | 148 |
| maps/pack.c | 1438 |
| maps/PACK.EXE | 9888 |
| mercsave.9xy | 1757 |
| mercury.9xz | 23955 |
| mercury.asm | 5440 |
| mercury.i | 6868 |
| mercury.txt | 14550 |
| player.asm | 8377 |
| sines.i | 3153 |
| sprites/artillery_0.asm | 397 |
| sprites/artillery_0.gst | 1706 |
| sprites/artillery_1.asm | 436 |
| sprites/artillery_1.gst | 1706 |
| sprites/artillery_2.asm | 507 |
| sprites/artillery_2.gst | 1706 |
| sprites/base_0.asm | 681 |
| sprites/base_0.gst | 2018 |
| sprites/blob_0.asm | 468 |
| sprites/blob_0.gst | 1706 |
| sprites/blob_1.asm | 468 |
| sprites/blob_1.gst | 1706 |
| sprites/bonus_2.asm | 507 |
| sprites/bonus_2.gst | 2018 |
| sprites/bonus_3.asm | 507 |
| sprites/bonus_3.gst | 2018 |
| sprites/bonus_4.asm | 507 |
| sprites/bonus_4.gst | 2018 |
| sprites/bonus_5.asm | 507 |
| sprites/bonus_5.gst | 2018 |
| sprites/bonus_energy.asm | 507 |
| sprites/bonus_energy.gst | 2018 |
| sprites/bonus_m.asm | 507 |
| sprites/bonus_m.gst | 2018 |
| sprites/bonus_points.asm | 507 |
| sprites/bonus_points.gst | 2018 |
| sprites/bonus_shield.asm | 507 |
| sprites/bonus_shield.gst | 2018 |
| sprites/boss_1.asm | 1004 |
| sprites/boss_1.gst | 2330 |
| sprites/boss_2.asm | 1533 |
| sprites/boss_2.gst | 2954 |
| sprites/boss_3.asm | 1533 |
| sprites/boss_3.gst | 2954 |
| sprites/boss_4.asm | 2598 |
| sprites/boss_4.gst | 3890 |
| sprites/bullet_1.asm | 184 |
| sprites/bullet_1.gst | 2330 |
| sprites/bullet_2.asm | 184 |
| sprites/bullet_2.gst | 2330 |
| sprites/bullet_3.asm | 255 |
| sprites/bullet_3.gst | 1394 |
| sprites/cannon.asm | 468 |
| sprites/cannon.gst | 1706 |
| sprites/diaggun.asm | 610 |
| sprites/diaggun.gst | 1706 |
| sprites/diaglightning.asm | 539 |
| sprites/diaglightning.gst | 1706 |
| sprites/diamond_base.asm | 578 |
| sprites/diamond_base.gst | 1706 |
| sprites/e_small_0.asm | 397 |
| sprites/e_small_0.gst | 1706 |
| sprites/ebullet_dart.asm | 294 |
| sprites/ebullet_dart.gst | 1394 |
| sprites/enemy_2.asm | 397 |
| sprites/enemy_2.gst | 1706 |
| sprites/enemy_3.asm | 468 |
| sprites/enemy_3.gst | 1706 |
| sprites/enemy_4.asm | 397 |
| sprites/enemy_4.gst | 1706 |
| sprites/enemy_sigma.asm | 610 |
| sprites/enemy_sigma.gst | 1706 |
| sprites/lightning.asm | 255 |
| sprites/lightning.gst | 1394 |
| sprites/pbullet_1.asm | 255 |
| sprites/pbullet_1.gst | 1394 |
| sprites/pbullet_m.asm | 481 |
| sprites/pbullet_m.gst | 1706 |
| sprites/player_ship_1.asm | 752 |
| sprites/player_ship_1.gst | 2018 |
| sprites/semi_round.asm | 539 |
| sprites/semi_round.gst | 2954 |
| sprites/smap.gsm | 269 |
| sprites/spin_0a.asm | 436 |
| sprites/spin_0a.gst | 1706 |
| sprites/spin_0b.asm | 436 |
| sprites/spin_0b.gst | 1706 |
| sprites/spin_0c.asm | 436 |
| sprites/spin_0c.gst | 1706 |
| sprites/spin_0d.asm | 326 |
| sprites/spin_0d.gst | 1394 |
| sprites/sprites.i | 2336 |
| sprites/triangle_1.asm | 539 |
| sprites/triangle_1.gst | 1706 |
| sprites/triangle_2.asm | 507 |
| sprites/triangle_2.gst | 1706 |
| sprites/triangle_3.asm | 539 |
| sprites/triangle_3.gst | 1706 |
| sprites/triangle_4.asm | 539 |
| sprites/triangle_4.gst | 2954 |
| sprites/xm00.asm | 468 |
| sprites/xm00.gst | 1706 |
| sprites/xm01.asm | 539 |
| sprites/xm01.gst | 1706 |
| sprites/xm02.asm | 539 |
| sprites/xm02.gst | 1706 |
| sprites/xm03.asm | 578 |
| sprites/xm03.gst | 1706 |
| sprites/xm04.asm | 649 |
| sprites/xm04.gst | 2330 |
| sprites/xm05.asm | 649 |
| sprites/xm05.gst | 2330 |
| sprites/xm06.asm | 649 |
| sprites/xm06.gst | 2330 |
| sprites/xm07.asm | 649 |
| sprites/xm07.gst | 2330 |
| sprites/xm08.asm | 649 |
| sprites/xm08.gst | 2330 |
| sprites/xm09.asm | 649 |
| sprites/xm09.gst | 2330 |
| startup.asm | 4668 |
| title.asm | 8052 |
| vars.asm | 2868 |
| version.i | 941 |
| which.i | 12 |

Copyright © 1996-2019, the ticalc.org project. All rights reserved. | Contact Us | Disclaimer