SupercarII v0.98
FILE INFORMATION
Ranked as 850 on our all-time top downloads list with 18170 downloads.

SCREEN SHOTS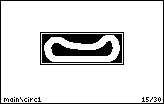 REVIEWS
Review
Review by
Doug Kay
Reviewed on
2004-11-22
Attention span: 8/10 Great multi-play, bad single-play
Controls: 8/10 Good except for split-screen mode
Implementation: 9/10 A fabulous racing game like Megacar
Overall: 9/10 Multi-player makes the game great

Super Car 2 is a racing game for the TI-89/92/ 92+. It is based on the popular Mega Car game, which was the first racing game of its kind for the TI-89. It is made by DBA, the ones who programmed the archive utility and many other advanced programs for the TI-89, so you know the game is made by capable programmers. It handles basically like Mega Car, where you have a top view of your car and the track. It has realistic turning, accelerating and decelerating. Controls are easy, quick and responsive. The only problem with the controls is when playing in two player split screen mode. The keys are incredibly awkward.

Its exciting new features are numerous and add greatly to the game. Unlike in Mega Car where you can only race an oval like blob around on the screen, you have your choice of 5 different, detailed cars. You can also change the maximum speed and turn angle settings to your desired preferences. The best feature that caught my eye though was multiplayer. You can have 2 player split screen mode, 2 player link mode, or four player link mode (two on each calc)! This makes for some great competition in math class. I did not like the single player mode at all. There is absolutely no objective; you just race around the track until you finish the set number of laps. Improvement on this would be nice.

As for graphics, the track itself is nothing much to look at. White depicts the track and black depicts the space around the track. You travel slower on the black than the white, for obvious reasons. As for the cars themselves, as I said, I thought they were a vast improvement to the single blob-like thing you had to race in Mega Car.

For how good this game is, I did find some improvements that would add to it. One, like in Mega Car, you should be able to see a preview of each track before you choose it. Super Car II only has the file name for you to decide with. Two, although you can supposedly use the track editor available with Mega Car, I couldn't get it to work in conjunction with Super Car II. This may be just my error, but I think the program should have its own editor anyway. A best time feature for each track would also provide some incentive for single play, i.e. try and beat your best time. One other thing, I don't code that often in assembly, but I was wondering if it would be practical for the game to include AI. This would provide another reason for you to play by yourself. Otherwise, as I mentioned before, you just go around the track pointlessly Although these absences don't ruin the game, they would make it a little better. Great job to the programmers, and keep up the good work.
LEAVE FEEDBACK

Questions, comments, and problems regarding the file itself should be sent directly to the author(s) listed above.

Write a review for this file (requires a free account)

Report inappropriate or miscategorized file (requires an account; or you may email us directly)



If you have downloaded and tried this program, please rate it on the scale below


ARCHIVE CONTENTS

Archive Contents
| Name | Size |
| --- | --- |
| TRACKS.TXT | 233 |
| SUP209X.TXT | 16643 |
| 89/skull.89s | 3349 |
| 89/track2.89s | 958 |
| 89/track3.89s | 1088 |
| 89/track4.89s | 3108 |
| 89/track5.89s | 2436 |
| 89/track6.89s | 1194 |
| 89/track7.89s | 1836 |
| 89/track8.89s | 1578 |
| 89/track9.89s | 2550 |
| 89/sup209.89z | 20511 |
| 92/SKULL.92S | 3347 |
| 92/TRACK2.92S | 956 |
| 92/TRACK3.92S | 1086 |
| 92/TRACK4.92S | 3106 |
| 92/TRACK5.92S | 2434 |
| 92/TRACK6.92S | 1192 |
| 92/TRACK7.92S | 1834 |
| 92/TRACK8.92S | 1576 |
| 92/TRACK9.92S | 2548 |
| 92/SUP209.92P | 19835 |
| 92+/skull.9xs | 3349 |
| 92+/track2.9xs | 958 |
| 92+/track3.9xs | 1088 |
| 92+/track4.9xs | 3108 |
| 92+/track5.9xs | 2436 |
| 92+/track6.9xs | 1194 |
| 92+/track7.9xs | 1836 |
| 92+/track8.9xs | 1578 |
| 92+/track9.9xs | 2550 |
| 92+/sup209.9xz | 21147 |
| Gfx/SUPERCAR.HUF | 3590 |
| Gfx/DU.RAS | 352 |
| Gfx/DUM.RAS | 352 |
| Gfx/FOR.RAS | 352 |
| Gfx/FORM.RAS | 352 |
| Gfx/LEM.RAS | 352 |
| Gfx/LEMM.RAS | 352 |
| Gfx/MAIN89.RAS | 632 |
| Gfx/MAIN92.RAS | 1568 |
| Gfx/POR.RAS | 352 |
| Gfx/PORM.RAS | 352 |
| Gfx/SUP51.RAS | 352 |
| Gfx/SUP61.RAS | 352 |
| Gfx/TRUCK.RAS | 352 |
| Gfx/TRUCKM.RAS | 352 |
| Gfx/SUPER89.HUF | 2984 |
| Source/SUP209.ASM | 76585 |
| Source/SUPMENU.ASM | 10563 |
| Source/SUP92.H | 13516 |
| Source/HUF.BAT | 245 |
| Source/COSTAB.BIN | 91 |
| Source/SUP89.H | 13245 |
| Source/SUP92P.H | 13598 |
| Source/HUFFMAN.EXE | 15600 |
| Source/sup209.sdb | 14626 |
| 92/SUP209.ASM | 76276 |
| 92/SUPMENU.ASM | 10402 |
| 92/SUP92.H | 13724 |
| 92/TIOS.H | 30771 |